From an Irish Market Town
- available now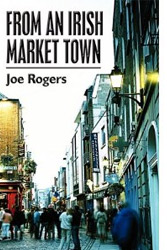 My latest book, From an Irish Market Town, tells of a young boy growing up in Portlaoise in the 1930s when street games - Whip & Top; Marbles: Skipping; Giant Steps; O'Grady Says; Hopscotch; What Time is it Mr. Wolf? etc., were in vogue, and taught us how to be independent, friendly and helpful to one another, win without shouting and lose without crying. We managed to survive without central heating, electricity or running water in the home, computers, play stations, mobile phones or foreign holidays. Holidays was when you got off school to go work on the bog, pick potatoes or snag beet or turnips. In the Summer of 1943 I worked for the County Council, heaping turf on the Oak Bog, from 8 am till 5.30pm - walked there and back every day with my brother Billy, and we loved every minute of it. I was eleven years of age, and Billy two years older. The telephone was in a yellow & green box near Fortune's Corner and as the house was devoid of electricity, at dusk an oil lamp was lit which was sometimes augmented by candles depending on the amount of light required. No electricity also equated to no washing machine, no vacuum cleaner, no television, no dvd player, no toaster, no hair dryer, no electric iron or any of the numerous electric gadgets deemed so necessary nowadays.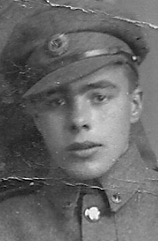 The 1930s are viewed nowadays as a period of hardship, but we who grew up then remember the simple pleasures of street games with neighbourhood kids denied to today's children who are generally over-indulged. Going to school, as we did, in our bare feet was not considered abnormal but a sensible precaution to make our boots last longer. On the other hand, going with the arse out of your trousers was not considered sensible but rather hinted at a slovenly or lazy mother or perhaps none at all. Despite all the diseases prevalent then such as diphtheria, tuberculosis and polio, children appeared to be healthier, playing outside most of the day, having to work on the bog and eating a lot less food.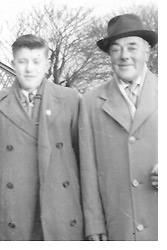 From an Irish Market Town is an entertaining story that touches on the many and varied facets of the human experience, and by its very nature and title might easily have been written by any one of the many thousands of emigrants forced to leave Ireland in search of a better life in the New World. Or indeed by a returning emigrant whose name might be found among the passenger lists of any of the great steam ships crossing the Atlantic Ocean in the latter days of the nineteenth or first half of the twentieth century, as the name of one William Rogers was discovered among the passenger lists of S.S. Germanic, an ocean liner of 3,149 tons, built by Harland & Wolf in Belfast for the White Star Line. Here was an example of people returning to Ireland from America, when William, with his mother and brother, in October 1893, landed at Queenstown (now Cobh), a port of call on the New York to Liverpool crossing. During the years 1895 to 1902 the Germanic was commanded by Captain Edward Smith who later became Master of The Titanic. The ship once held the speed record for the fastest crossing of the North Atlantic. On an Eastbound run in July of 1875, she achieved an average speed of 15.76 knots to complete the crossing in 7 days 11 hours and 17 minutes and win the much-coveted Blue Riband.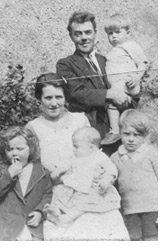 In fact, in the 1930s when we were young, we played in the streets and rhymes were sung; hoola hoops and skipping ropes brought hours of fun, in the afternoon or evening or the morning sun. Growing up in Ireland in a Market Town, we had few possessions we could call our own, but the fun and laughter with a whip and top, gave us as much pleasure as our hopscotch hop. We took three giant steps by the old Dead Wall, glass alleys and marbles were no bother at all - if you hit one you won one and then around the town, it was ringaringaroses and we all fall down. O'Grady says jump and O'Grady says stop! Then your mother she shouts you to run to the shop, take this sixpence for a quarter of tea and be back double sharp or you'll hear from me! Don't be there till your back I've the kettle boiled - if you keep me waiting you'll be one sorry child!