The War of the Elves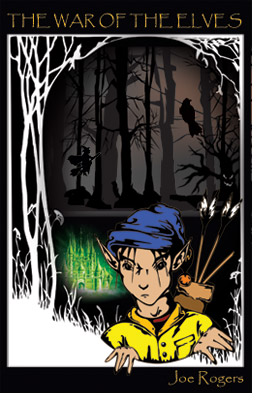 Four children — 10 yr old Leyla, 9 yr old Horatio, 6 yr old Tundi and 5 yr old Sierra — in the company of the changeling, Dylis (A Fairy Princess) gain entry to Fairyland disguised as elves on a mission to warn Ree Cluselug, King of the Fairies, that his Kingdom is about to be attacked by an invading army of Elves disguised as a travelling troupe of circus performers. Unknown to the children, the changeling, Princess Dylis, is also on a secret mission to discover the whereabouts of 13 yr old Shauna, elder sister of the other four children, who, without their knowledge, has been kidnapped and the lookalike changeling left in her place.
The children, all natives of different countries, now live happily together in England as brothers and sisters of their adopted, multicultural family, completely unaware (as are their mum and dad) that the changeling, whom they all think to be Shauna, is actually a magical being who was brought in the dead of night and exchanged for Shauna who had upset the fairy kingdom by her misdeeds. Naturally, the family marvel at the much-improved behaviour of the (new) Shauna, but the children especially take to her because of herwonderful prowess at performing magic.
Join Leyla, Horatio, Tundi and Sierra in this magical adventure; journey with them to Fairyland where you'll encounter ghosts, goblins, giants and ghoulies – a fantastic world beset by witches and man-eating crows. On your strange adventure beware of dragons, giants, elves and fairies and thrill to the many escapades – not least your travells throughan Enchanted Forest guided by a friendly Unicorn.
The War of the Elves, book two of The Changeling series, is a magical tale by Joe Rogers. Although written in English it is spiced with a litle Spanish, Irish, Turkish, and the Kalabari dialect of the Ijaw people of Nigeria, in keeping with the ethnicities of its child characters.
Buy The War of the Elves from high street bookstores in the UK, USA and Ireland such as: Waterstones, Borders, Laois Education Supplies or order through any book shop near you. Also available online via the links on the left of this page.